Ed on the Great Wall
On 13
th
May, 2 weeks after Mayday, my friend Paul Murt and I set sail for China. I must admit for weeks before we went I was so excited about the trip we were going to partake and I know Paul was but before I start on the holiday, let me tell you a bit about my friend Paul Murt. Paul and I have known each other for many years and I was also friendly with Paul's dad who was a member of the Padstow lifeboat, and although Paul was never in the Lifeboat he would have made a good crew member as he was always dead calm, nothing would flummox him.
Paul was once a chef but he has recently changed his profession and he is now studying to do a degree in photography at Plymouth University. I needed someone to go to China with me and Paul fitted the bill perfectly.
So back to the trip - at 10 am on the 13th May, my stepdaughter Emma took Paul and I up to Bodmin parkway, to catch the 11.15 overnight train to Heathrow airport. There were already a few people waiting at the station. We said goodbye to Emma, and let her get on her way home and not long after the train hooted and then it pulled into the station and we boarded.

Paul took the first watch while I had a sleep. I remember him saying that he felt like John Wayne in the western movies. I did doze a little but it wasn't comfortable. On long haul travel you have to put up with all the discomforts. We arrived at Reading station at 4 am. It wasn't long before we caught another train to go a few stops on the line and then change trains onto Heathrow airport. We didn't have far to walk, as we were right on terminal 3. We had plenty of time so we decided to have a cooked breakfast which set us up for a hard days travelling. It wasn't long before Paul said well its time to board, I had given Paul the tickets as I thought this was a good idea as I am prone to losing things. Just before we checked in Paul gave me my tickets and I held them for dear life, it would have taken an ocean going tug to pull them out of my hand.
It wasn't long before we were boarding. We were flying on an Airbus 320. I have ridden on the 320 before. We had a back seat and it was quite hot so I had to take of my coat off. I heard a thud but didn't take any notice as there was a lot going on. They came around with our meal. Paul didn't have any problem opening the containers but I struggled, Paul mention that it looked as if there was an explosion on my tray! From this moment on he found himself in the position of my nursemaid. I did say that I would bring a bib next time.
2 and a half hours later we touched down in Helsinki. We had 5 hours to wait before we could board the flight to China. We had a cup of tea in a café; I named the café the Robin Hood as we paid 12 Euros for 2 cups of coffee and a sticky cake! After we had drank our tea I decided that I was going to phone Christopher at the yard. At that point I realised that I had lost my phone. This was a bad omen. I told Paul that heard it drop on the plane. Paul tried to get it back but they didn't want to know too much about it and they gave him a telephone number to ring in a couple of days as the cleaners take all the lost property to Helsinki, so there you go my phone and the credit on it was gone.

Time slipped by and we boarded the flight to China. We had a wing seat on this plane which was an Airbus 340. It was a big plane and it had 4 engines and a lot more room in our seats. It wasn't long before we were in the air. It was a wonderful take off made even more interesting by the TV screens in the back of our head rest that showed the view from the cockpit as we took off.
It wasn't long before they brought around a meal that was piping hot. I did enjoy it, but realised I was making a bit of a mess, and Paul cleaned my tray up.
We followed the daylight all the way to China and it never got dark. They came around with breakfast which we ate and it wasn't long after that the plane began to descend. I had the window seat and I noticed the mountains and fields with their crops and then we touched down in Beijing airport. I asked Paul if I presentable, he said well you have spilt a bit of food over you so I had to go to the toilets and turn my jumper inside out.
Friday 15th May
We made our way through customs. All the customs officers were wearing masks; I supposed this was for swine flu. Well the girl whose gate I went through pretty looked at me, it must have been my hair; they are not used to hair like mine.
A message over the tannoy said use only registered taxis but when we got to the taxi rank we didn't know which was a registered taxi or not as they all looked the same. We were lead to the next car available, which was a people carrier and within 45 minutes he had dropped us at the Hotel Novotel Beijing Xin Qiao and charged us 340 Yuan, we had a suspicion that he wasn't a registered taxi, but we were glad to be at the hotel as we had a long flight.

We checked in, the room wasn't ready so they gave us a cup of jasmine tea on the house. Soon they came and took us to our room. We were ten stories up, and I didn't look out the window as I don't like heights. Paul told me what a great view of all the streets around us.

We decided to have a sleep for a few hours. After we had washed and showered we slept. 4 hours later we woke up and it was about 4 pm so we decided to go for a recce, and check out the metro system. This you may think was a bit soon as we had only landed a few hours ago, but we knew we weren't here for long and dived in at the deep end. We also decided that we weren't going to take much money out with us. We had both seen the programs on TV about how tourists in the city can easily be ripped off and have there pockets picked. Off we went with 500 Yuan and no credit card. As we left I asked a guy at the desk, (Jason was his name, he was a great guy helped us a lot,) if it was safe for us to walk around the streets, he said that it was fine, there is only one area of the city that was a little rough, and we weren't going there.
We walked down the stairs to the metro. Paul got us tickets from the railway police. Our station was Chongwenmen station and we were going to Tiananmen east. We got to the platform and waited for the train to arrive. I must say at this point what a fantastic job they have made of there underground as it was clean and tidy; no graffiti and all the workers were helpful.

The train pulled in and within no time we were at Tiananmen Square. We walked up the stairs and came out onto the walkway outside the Forbidden palace.
There is a huge picture on the wall of the forbidden city of Mao Zedong, or as he is better known to us Chairman Mao. The first Chairman of the communist party. I thought to myself how things have changed. If the emperor of the Qing Dynasty was still alive then Mao would have been put to death but here he has his picture on the city wall. You never know what will happen in life, a man that came from humble beginnings ended up being the savior of the people.
You never know what is in store for you, and Paul and I didn't know what was in store for us that night.
We then walked through the subway, across to Tiananmen Square, I couldn't believe the size of the place it was vast, there were thousands of people. Still it wasn't crowded. This young Chinese guy came up to us and started telling us a little of the history, he spoke perfect English, he told us that he was a university teacher teaching English and history and he was waiting for a couple of his students to come out of the Forbidden City. He was very knowledgeable and was telling us many facts.
After a short time I suggested that we go to a small café, and have a cup of tea. He said he knew a place a short distance away and would we mind if a couple of his students came with us as they would like to improve their English. Well as if by magic these two students turned up. Their names were Candy and Sally, and spoke perfect English, it was at this point that we should have said goodbye, because something didn't feel right but we carried on down a side street and into what can only be described as a shack. We were led through to a small room with a large table in the centre. The table had been carved out of one solid piece of a tree and polished. It was a beautiful piece of furniture, I wanted to take a photo of the table but he said no photos. On the table there were many different pots with tea, we were seated. A young girl dressed in a Chinese costume appeared with a tray. She talked to us in Chinese, Ben (that was the university teacher) translated for us, it was all about how the different teas helped you, some were good for your heart, digestion and other health issues. Some brought good luck. First we would smell the tea in its raw form then the girl would pour hot water over the leaves let them brew and we would drink. I was beginning to get worried at this point. I thought that they were going to drug us and steal all our money. I was trying not to drink the tea; I certainly didn't smell it as it was passed around. I looked over at Paul to see what he was doing he didn't seem to be bothered by this. He was drinking and sniffing everything that was put in front of him. I thought to myself it wouldn't be long before he keels over, drugged. I tried to think my best plan of escape if he did. I would run back to Tiananmen Square, and call the military.
Ben asked me if I was a religious person. I told him that I was a druid, this was a very old religion, I think this scared him slightly. I thought to myself we have got to make our escape so I stood up, and with the thoughts of an old religion still fresh in their minds I gave a sermon and asked them if they were happy with there lives. They said they were. I then asked for the bill as I had to go and phone my son, back in England. The bill arrived and I gave it to Paul and asked him to pay, as he had the money on him. He opened the bill, WHAT! Paul's chin hit the floor. He said the bill had come to 1400 Yuan; this was around £150 in English money.
We didn't have enough money on us. We explained that we hadn't enough money on us; we had only got 500 Yuan. That's alright I said if you pay then come back to our hotel and we will pay you back in full. Which was what we did, he got us a taxi and we got in. There wasn't enough room for us all so one of the girls had to stay behind. We got back to the hotel and paid him in full, he asked if we would like meet up with him when we go back to Tiananmen Square on Monday to visit Chairman Mao mausoleum. We said yes, this would be a good idea, but in our minds we knew we would never make that appointment. We said goodbye and they left, Paul and I went to the restaurant and had two large beers, looked at each other, and I said I think we have just been scammed, Paul agreed. Whether they were scammers or genuine we will never know, they might even have been undercover police.

We had our dinner and then went towards the lift, Jason the guy from the concierge asked us if we would like to join a trip to the Great Wall tomorrow, it was 300 Yuan each for a full day excursion with lunch, we accepted and then retired to our room for the night.

Saturday 16th May
We woke early the next day as we had to catch the tour bus at 7.30 am. We piled into a people carrier, there were 11 of us altogether if you include the tour operator and the driver.
It was a glorious day. As we went along, the tour guide,who's name was Sanny, told us all about Beijing. We quizzed her on all manner of questions, and she knew all the answers. The first stop was the Ming emperor's tomb, it took us an hour to get there. We looked around the tombs and it was a great site very grand.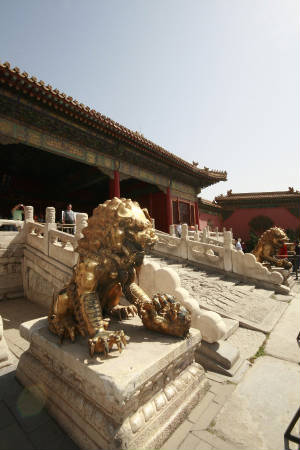 We then went onto a China pot factory where we saw how these ornamental Chinese pots and dishes were made. Then onto a Jade factory where we had a tour of the different types of Jade. Here they gave us lunch, which was very nice we all sat on a large table with the food on a roundabout, Paul told me it was called a lazy Suzy.

After lunch we headed to the Great Wall. We made our way higher and higher into the mountains. through farming land. We never saw a water buffalo of which I was hoping. Finally we arrived at the Great Wall. We all got out the vehicle, be back here in two hours said the tour guide and off we went. Paul took my photo on the wall and then he said to me that he was going to climb a bit higher and off he went. I walked a little higher but knew that it was going to be a hard climb as it was steep, almost vertical in places. I didn't feel frightened at all, in fact all the people were very friendly.
The wall was first built in the 7th century BC when China was still divided into many small states.
Most of the Great Wall we see today was built in the Ming Dynasty (1368-1644). It was built to keep people out and how funny that today it is one of the largest tourist attractions in the world, and pulls in a lot of money and it is a national monument. Paul came back and we had a beer in the café at the bottom of the wall, Paul told me that he climbed 4 stages from the bottom and that it was hard going, he didn't have enough time to go farther as time was moving on, we did say that we would both like to go back 1 day and visit the wall again.
Back in the vehicle again we started on our way back. On the way we stopped at a silk factory. They showed us how the silk was made and how it was turned into material. I was going to buy myself a pair of silk pyjamas but couldn't make my mind up so I never. The factory has a web site so if I change my mind I can order over the net.
Well almost an hour later we arrived back at the hotel and it was about 6 pm. It was a great day out and we said good bye to all the others. We went and freshened up in our room and then went for dinner.
The hotel had three restaurants and we used the one on the ground floor and I must say it was just like home cooking, there was fish and chips, steak, soup mashed potato, it catered for every nationality. In the morning they did a wicked cooked breakfast. We then turned in for the night.
Sunday 17th May
We woke this morning and went to the restaurant and had breakfast. Today we were going to see the Olympic stadium (the birds nest). It is a long way on the tube; at this point I must add that Paul was an absolute genius on the underground. In no time at all he had mastered it. The underground was a great place to be as there were all so many different people from student to tourist also I couldn't believe how calm it was. There wasn't any barging or pushing. The people waiting to get on, waited for the people to get off. One time a guard seen that I was carrying a white stick and told me to wait in the disabled area, as this was the easiest place to board. On a few occasions there were people a lot older than me asking if I would like their seat. We had no trouble communicating with the Chinese people, they all spoke English in fact the guide told us that Chinese children start learning English from the age of three. There were lots of stops on the underground to get to the stadium, from one side of the city to the other, but we had no trouble as the announcements were in Chinese and English. All the signs were in English.
Eventually we got there, walked up the long ramp and out into the Olympic area. We could see the stadium, but we were still quite a walk away. But what a lovely walk it was as the floor was paved in marble, every thing was clean and tidy.
Paul arranged the tickets and we walked in, we had to put our bags through the x-ray scanner, but everywhere we went in Beijing we had to do this, even in the underground.
We walked in, not up or down, but from ground level, right into the main arena.

We walked out onto the arena and I said that I would like to do a circuit of the stadium. We walked around clockwise as this was good luck for us Druids. The floor had been laid with Astro turf; it was soft to walk on. Although we were only walking it was hot, I don't know how the athletes coped in the Olympics. It would be nice to have ran around but I'm afraid age wasn't on my side. There were many people in the stadium, but it was nowhere near full. I read somewhere that 20,000 visitors a day go to the bird's nest. We finished the circle and went and sat in the grandstand, Paul got us a couple of drinks, and we sat there a few minutes just soaking up the atmosphere. I wanted to find a café that I had heard about on TV, so we left the stadium. As we walked a Chinese guy ask if he could have his photo with me, Paul took his photo using this guys camera, and he went off as pleased as punch. the Chinese people love having there photo taken with western people, we met a Scottish couple in the restaurant, he was a huge guy, a giant of a man. He told us that everywhere he goes he has to stop for a photo.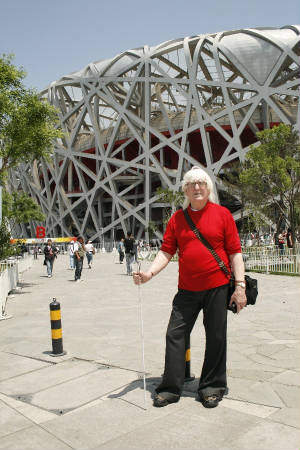 We walked a long way to find this café, but didn't have any luck. Paul noticed that the warning signs in the park were different. To get there point across it would say something like this. 'The grass is smiling at you, please detour' much better than, keep of the grass, don't you think?

I kept eyeing up all the women. I said to Paul do these women wear bras; they don't seem to have a lot up top. yes he said they wear bras.
The women are so beautiful, and tiny, it would take 3 of them to make up 1 of our women back here.

We walked a long way back to the underground. Paul was checking out his map when 2 police officers approached him they asked us where we wanted to go. Paul showed them his map and they pointed to the platform that we needed. We made our way back to Chongwenmen station. We then had a bite to eat and a couple of beers, and I turned in for a couple of hour's kip, Paul went out and about the area we were in, he would explore all the backstreet's. When he came back he told me that he had found a wonderful indoor market that sold all different types of food. I asked him if he wouldn't mind showing me.
But not tonight as tonight we were going to snack street. What is Snack Street I hear you say; The Wangfujing Night Market or Snack Street has a selection of exotic street food. Deep fried insects, scorpions, sea creatures and snakes can be found, along with other animals and animal parts not ordinarily consumed as food in the west. Paul was a real star. I didn't think he was going to try anything, but it was like he had been in training for years for just this moment. The first thing he ate were scorpions, I didn't like the look of these but Paul tucked in. He did give me a piece and I liked it, if we had scorpions back in England, there wouldn't be many left. He didn't stop there. The next victim on his list was snake; the woman showed him her wares. He picked the one he wanted. The woman then skewered it and placed it in the deep fat fryer. It cooked in there for a couple of minutes, and then she put it onto a barbeque, where it cooked for another few minutes. They shook different spices over it and then handed it to Paul. He ate that as well, when I asked him what it was like he replied it was like trying to chew through a piece of plastic pipe, it was that tough. I thought I would like to try a starfish but with my dodgy stomach I didn't want to ruin the rest of the holiday. So I conceded and let Paul triumph.

Monday 18th May

There was another trip today. We booked up and this time we were going to the Forbidden City. We got into the mini bus, there were six of us this time, two Americans and two Australians, both husband and wives.
We entered the Forbidden City through an enormous gate with two giant figures each side of the doorway. These figures are guardian lions and are believed to ward off evil and misfortune. The male lion has a globe under his paw and the female has a cub. We went through many different gates, into different areas. We seen all the workers dressed in yellow that were renovating the palace. They all wore helmets and safety coats. I also noticed that they were still using bamboo scaffolding. We walked through the area where the film the last emperor was shot. Here we saw a stone carving, which was the largest stone carving out of a single piece of stone in China. There were two trees that were planted for the emperor and empress. These trees are entwined to show there eternal love for each other and now people queue to get their photo taken under it, this it is said will bring ever lasting love and good luck.
To be honest I wasn't that impressed with the Forbidden City.

When we came out of the Forbidden City. The tour guide asked us if we would like to have a ride in a rickshaw. We jumped at the chance as this was one of the things that were on our list of things to do while in Beijing. We got a great photo of me sat on the bike with Paul sat in the back. They took us around the old quarter, in and out all the alleyways and backstreet's. I said to Paul, these guys work hard. It was all flat terrain and they were peddling constantly. We visited a doorway that had been rebuilt in the old tradition. This doorway was the entrance to the home of a soldier. He was of quite high rank. The guide told us the more beams you had in the porch the higher rank you were, this door had 4 beams, and the common people never had any.
We also visited an old style quadrangle residence. These style houses were built around a central courtyard with four wings surrounding it, the north, south, east and west. The owner invited us to have tea with him and we sat in a wing of his house and with the aid of the guide we asked him questions. This house I asked, it is very old? Have you ever seen or felt anything strange, like spirits or ghost? Yes he said many times.
Next stop was the summer palace.
The summer palace was constructed in the Jin Dynasty (1115-1234), it was extended continuously and by the time of the Qing Dynasty (1644-1911), and it had become a luxurious royal garden providing royal families with rest and relaxation in the hot summer months.
The summer palace was the jewel in the crown, well for me anyway, I haven't got enough time to tell you all about the summer palace, if I told you everything it would be a novel so here is just a taster of what we saw. There were many statues and carvings. There were three big stones there one was called "old man peak". Another stone was called the bankruptcy stone and this is how the story goes.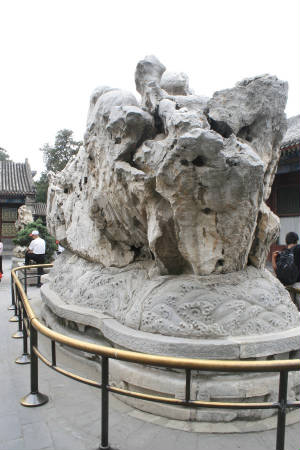 In front of the Hall of Happiness and Longevity there is a huge rock placed in the middle of this courtyard names 'Quing Zhi Xiu' and nicknamed the 'Family Bankruptcy Rock'. A Ming official Mi Wanzhong discovered this huge rock in Fangshan District. He wanted to transport it to his own garden ;Shao Yuan'. In the old days, transporting such a rock was very difficult.
After spending all his money to ship it, he still couldn't succeed in doing this. The big rock was then left on the roadside somewhere near Liangxiang County, 30 km southwest of Beijing. Hence it was named the 'Family Bankruptcy Rock'. Later Emperor Quianlong discovered it and transported it to the Garden of Clear Ripples and laid it in front of the Hall of Hapiness and Longevity.
The bankruptcy stone - I had to touch it, later I found out that I wasn't allowed to and could have found myself in jail.
We then moved on to the longest corridor.

On the northern bank of the Kunming Lake is a long corridor, also called the thousand-steps corridor that is world-famous for its fine craftsmanship. It contains 273 small 'rooms' and is 728 meters in length-the longest corridor in any form of Chinese garden or ancient architecture. The four octagonal pavilions that are spaced along it, for stopping and resting, have ornate descriptive names and symbolize the four seasons. Some 8,000 paintings are painted directly on the beams of the corridor. They narrate stories of famous people in Chinese history and portray decorative scenes. As we walked through the longest corridor I noticed on the left of us was a huge lake. The tour guide Sanny, saw me looking at the water and said, you do know that lake is man made? I wasn't sure what she meant and asked her to explain. With an area of 2.2 square km the Kunming Lake covers approximately three quarters of the Summer Palace grounds. It is fairly shallow with an average depth of only 1.5 meters. The lake was commissioned by the Qianlong Emperor with the work being carried out between 1750 and 1764. In the course of creating the gardens, the lake area was dug by hand using only picks, shovels and buckets by a workforce of almost 10,000 laborers.
Positioned at the west bank at the foot of Longevity Hill, is a huge marble boat all hand carved. It is also known as "Qingyanfang" (Boat of Clearness and Comfort) and was built in 1755. The Qing Dynasty emperor had it built to signify that they would never leave Beijing, and would stay forever. Well they have all gone, but the boat is still there. We took the dragon boat across the lake, back to the tour bus.
During the winter the lake develops a solid ice cover in winter and is used for ice-skating.
On the way back to the hotel we stopped at a teashop. We were given a traditional tea ceremony. This time we didn't get scammed; it was all included in the tour.
We got back to the hotel, had some dinner and we turned in for the night, it was a long day and we were both tired.

Tuesday 19th May

Today we were going to Tiananmen Square to visit the Chairman Mao mausoleum. We got there about 10 am and the queue must have been 2 miles long. It went up and down the full length of Tiananmen Square 4 times. There wasn't a western person in sight. I said to Paul, do you think we will be allowed in. At that moment we heard a message over the tannoy, welcome to the Mao mausoleum everyone is welcome but all bags and cameras must be left outside. Paul and I weren't too happy with this arrangement. Also the heat was intense, it was 34 degrees. We didn't want to queue for hours in this heat. We decided not to join the queue.
We decided to go to shop street, to get our presents to take home, and get up early tomorrow and visit the mausoleum.
We went to shop street and I bought some pyjamas to take home for the girls, and Paul bought some bracelets, and some jade for his girls. We got back to the hotel and I had a little sleep while Paul went out to document the area. When he got back and woke me he told me that there was a large shopping area just around the corner from the hotel. So I said do you mind if we go back and I can take a look. We walked down the road and into the shopping precinct; I bought some Chinese music on CD. We tried to find a restaurant that sold Peking duck but there were so many alleys and side streets we could have been looking forever. So we ate back at the hotel. I must mention that the hotel was spotless there seemed to be a thousand people working at any one given time. There was always someone washing the floor or polishing the glass.
We then turned in for the night as we were going to Tiananmen Square early tomorrow.

Wednesday 20th May
We woke up extra early and got a taxi to Tiananmen Square. The taxi driver dropped us off at the rear so we had a long walk to reach the entrance. When we arrived at the entrance to the square, we couldn't believe our eyes. There must have been 5000 people in front of us and it wasn't long after that there was 5000 behind us. We waited in the queue for over an hour. The ladies that were waiting in the queue with us loved my hair. They kept making a comb with there fingers and combing through my hair. Well at 8 am the queue started moving and it wasn't long before we were going through the doors. As we went into the building everyone went quiet with respect. We filtered through the first hall where everybody was laying flowers at an alter. Then onto another room where we walked past chairman Mao lying in a crystal coffin, he had the Chinese flag draped over his body. It was very emotional. We came out of the memorial hall and walked around Tiananmen Square, just taking everything in.

We went back to the hotel for a bite to eat and to get our cameras, and then we were off again. This time we were going to the Beijing museum. I think museums are important. We arrived at the museum, Wow. It was the most beautiful building I had ever seen. All the outside was tiered with green hedges, the steps were all marble and the building itself shone in the sunlight. We walked through the door into the foyer. It was like a cathedral, four stories high. The floor was polished marble; I have never seen anything like it. We decided to go up on the escalator. It must have rose about 150 ft. Paul went on ahead and took a photo of me coming up.
We looked at lots of exhibitions. We didn't go into the Chinese pot exhibition; we both said that we weren't really interested in pots. I watched a film all about chairman Mao and the Beijing revolution and how they formed the peoples republic of China, it must have lasted 20 minutes, it was in Chinese, I didn't understand what they were saying but the film reel was interesting. I thought to myself about the demonstrations at Tiananmen Square, twenty years ago, and how they tried to do the same thing as Mao and the revolution. But they didn't progress with it. One thing which I would liked to have seen more of, was all the old photos of the workers building the city, working the land, using all the traditional equipment.
Thursday 21st May

Today we were going on another tour. This time we were going to see the Pandas. Then onto the summer palace once more and finally ending up with the llama temple. We got to the reception, and this girl asked us if we had our tickets. Paul had left his upstairs. Mine was in my bag. Paul went and got his and came back. I couldn't find mine in my bag. Paul said that bag is useless; you can't find anything in there. It has four pockets and you don't know which one is which. The girl behind the reception, who knew we had paid, gave us another ticket. I found mine later that day. The young girl, who was to be a tour guide, introduced herself. My name is Lisa she said. I fell in love instantly. She took us to the mini bus. I said where is everyone. She told us that we were the only two today.
Our first stop was the panda house. The first panda was in a pen by himself. Paul said he looks a bit lonely. We then went onto another area were there were 5 or 6 pandas eating the bamboo. It was a real treat to see these animals. I took a photo of Paul and as I did a panda came right up behind him. We then went to the gift shop where Paul bought a toy Chinese panda for his youngest daughter. We then went back to the mini bus.
I did tell a lie in China. When Lisa asked me had I been to the summer palace before, I told her no I hadn't; I wanted to hear her version of the tour. She showed us the stones, told us the story of the bankruptcy stone. She did tell a lovely story. I then thought she was going to show us the longest corridor, but instead we turned a different way and walked along the lakeside. It reminded me a little of Falmouth with its walk along the harbour front. We saw the dragon boats going to and fro, taking people from one side of the lake to the other.
We walked down a marble pathway with the trees on our left and the lake to our right. We stopped at each statue and Lisa told us what each one signified. In the distance we could hear the sound of music. We walked slowly towards it, until we had joined the crowd. There was a conductor and he was leading the band. The entire crowd was singing. I got involved, although I didn't know the words; I was clapping and beating my hands on my tummy. Lisa told us that they come here to sing every day and that they sing songs of the revolution. We then walked past a large pavilion there were ladies dancing with ribbons. Lisa said now I have something special to show you. She took us across the Shiqikong Qiao bridge it has seventeen arches. Why seventeen you ask. Well the highest single number is nine and that is the emperor's number, the ninth arch from either side is the ninth.
We walked along the bridge. Lisa told us that there were 544 carved stone lions along the bridge and that each one was unique, although we couldn't tell; each one was slightly different. We went across the bridge; Lisa said there is a surprise for you at the end of the bridge. We reached the temple on the island. It was the temple of timely rain and extensive moisture. I looked inside and looking at me were to huge dragons, they must have been the size of shire horses. In China dragons are referred to as the divine mythical creature that brings with it ultimate abundance, prosperity and good fortune. This is a little like us back in England. We have mythical creature that bring us luck, and fortune. These dragons were placed in this temple, for people to pray to in times of extreme draught. We started to walk back to the bridge, as if by some strange force, it started to rain.
Paul went on ahead to take some photos. Lisa and I walked across as we walked down the bridge slope, Lisa caught hold my arm. Her hand was like a little harvest mouse, finding its way out of the corn. She was so lovely. I told Paul that I had fallen for her. He said I thought you had. We got back to the mini bus and Lisa said; now we are going to have lunch then we will go to the lama temple. We had lunch and I asked Lisa and the driver to join us. No she said we are not allowed. I didn't force her.
The Yonghe Temple, also known as the "Palace of Peace and Harmony Lama Temple", is one of Beijing's most famous monasteries of Tibetan Buddhist monks. There are around a hundred monks teaching there.
The air was thick with incense and people were throwing money to all the different Buddha's, so there prayers would be answered. I even knelt and prayed although I didn't burn any incense. I prayed to my god and everybody else's god. I prayed for world peace. I told Lisa what I had prayed for; she said you are a very kind man. I thanked him for giving Paul and I a great holiday, and deliver us home safely.
Well that was it. The end of our holiday, we were going home tomorrow. We said goodbye to Lisa. I will miss her she was so beautiful. I said to the guys at the concierge, how much we loved China and the Chinese people. Will you come back he asked. I replied yes I think we will. We took one more look around the shopping area, usually as we walked across the road Paul always said to me hold on to my shoulder bag and I'll guide you across. This time he didn't and an electric pushbike almost ran me down. I said I don't want to go home in a wooden box.
We had our dinner and turned in early as we had a long day tomorrow.
Friday 22nd May
Homeward bound. We got the taxi at 7 am. He didn't speak any English, but as we were coming out of Beijing he pointed at the road in front, it was choc a bloc full of cars. He motioned that he was going to take us around. We understood this and thought this was going to cost us. We arrived at the airport in plenty of time. He showed us the bill 150 Yuan, half the price off the journey there. We gave him a good tip.
Well we were at the airport. We had finished our holiday in China, that's if you can call it a holiday, by this I mean it was hard, hard work. We didn't stop for a week. I was looking forward to having a rest. My legs were killing me. So this next episode I felt was strange.
Paul checked in our baggage checked in our baggage. The lady behind the counter said to Paul, would your friend like to have a wheelchair, as it is a long walk? No Paul said he likes to walk. I thought it would be nice to be pushed through customs. Especially as it was a long walk. Every gate we went though wanted to check our baggage, Paul would sail through but for some reason they kept picking on me. I would have to go through the machine twice sometimes three times. It was at one of these gates that Paul raised his voice at me, this was the first time on the holiday. It hurt me a bit. I didn't do much wrong I only lost my boarding pass. He said you only had it 5 minutes ago what have you done with it. We looked all through the bag. Paul eventually found it on the floor. After that I held onto it tight.
We boarded the plane and within no time we were in the air. Even with my sight I could see the mountains. We flew over the Mongolian desert. They brought some lovely meals one of which was spaghetti, I'm not a great lover of spaghetti, but hungry guts will eat anything. I wolfed it down. Paul looked over at me and thought a bomb had gone off in my dinner. It was everywhere, all down the side of the plane. Paul said he thought the guy in front had some on his head. We arrived at Helsinki. We didn't have long to wait until we were on the plane home to Blighty. We touch down at Heathrow. Got our bags went through customs. The guy said are you from Cornwall, yes I said. OK then on your way. We got the Heathrow shuttle to Paddington. I had never seen so many people, it was worse than Beijing. We managed to get on a train. It was packed. I got a seat at Reading and Paul got one a little farther on. We change at Plymouth, and arrived at Bodmin parkway, Emma and Taz were there to pick us up and take us home.
Roly the dog and Tilly the cat were waiting to great me.